Heritage Orion
Chesnut Horse 1998 15.3hh Reg AASB
Stud Fee: £400 NFFR (1st October Terms)
Heritage Orion is NaStA Performance Tested Grade A Premium Stallion.
Concessions for proven competition mares or show mares.
Six Premiums available for proven mares.

Video of Orion taken at The Stallion Showcase in February 2013 click here

For Further images of Heritage Orion please click here
For Further images of Heritage Orion please click here
NEWS:-
Orion daughter ' Saxen Starlight Royale' qualifies for Cherif Champs 2013 and the Royal International
F F Alpha Orionis, Gelding by Heritage Orion wins the 2012 Endurance "Highpoint First Season Novice" Endurance award.
H.Orion takes Performance Horse Award for Anglo Arabs for 2011


Home bred stallion that has been bred to compete in eventing and Arab racing (he is 25% Arab Blood, 75%TB) who is available at stud for Natural & AI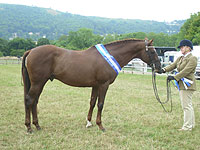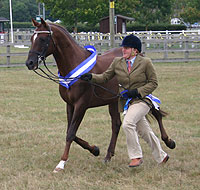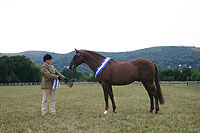 AHS National Show - Heritage Orion took Reserve In Hand Male Champion 2010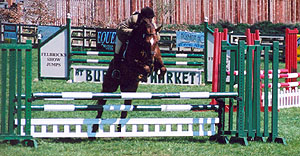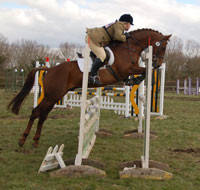 Orion scores in first dressage competition - showing his natural ability and excellent steady temperament. Orion produced two excellent tests for his first ever dressage competition to be placed 4th in the Prelim and 2nd in the Novice 24 class.



(left - Orion just ridden away
as a 3 year old)

He was quietly produced at home by his owner, Jane Skepper, for the Young Horse Evaluation Series Most Promising Eventer to take place at Towerlands on 14th April 2002, where he
won the Eventing section and qualified for the championships at HOYS in October (For Horse and Hound article click here )

He was given :
7.50 out of 10 for Veterinary Mark
7.00 out of 10 for Loose Jumping
Soon after he was sent to trainer Mr Paul Keen at the Conkwell Grange Stud to race under the ARO rules in Anglo Arab races.

For more information on Heritage Orion's racing career please click here
Having arrived home from Warwick, Orion had a week off and then started his preparation for HOYS. With only 8weeks to get him performing a good dressage test and jumping a British Novice sized show jumping course and general show experience his schedule was fairly hectic. We had lined up some small competitions locally but these were hampered by our lorry being off the road for nearly a month so we had to resort to using the trailer and giving him some indoor away experience with Robbie Haag at his yard.
On the Sunday prior to HOYS we took him to a local area BSPS show to compete in a Performance class where he was third which gave him some valuable ring experience with judges.
We left on the wednesday for HOYS for the Young Horse Evaluation Most Promising Event Horse Championship. For a full report click here.
Orion did exceptionally well being placed 5th of a strongly contested championship class. Here are his marks:-
Vet

Eventing
Performance

Temp

Eventing
Performance

Temp

Total

%

8.3

6.23

6

7.38

7.25

35.16

70.32

The judges were: Richard Ramsay, Jane Nixon & Yogi Breisner

Having a young stallion that is so versatile in temperament and has proven speed will launch him as a successful young stallion in the eventing world.

Heritage Neptune, his sire, was ranked in the top ten young event stallions by the BHD in 1998 and was also Graded by The National Stallion Association Performance Test. For more information click here

Heritage Neptune was sold to stand at stud abroad in 1999. 'When Neptune was purchased to go abroad we were lucky enough to have two young colts of which Orion is the older one, so we have kept both and the younger one will be coming through next year.

The stud has been involved in breeding flat race horses since 1975, and more recently has used the good quality thoroughbred mares to cross with the Anglo Stallion to produce top class athletic competition horses that have both stamina, speed and excellent temperaments.

With the demands on the modern day event horse requiring a horse that is not only quick and agile for the combinations but also can really gallop, using these Anglo Arabs for Eventing will become more common especially since the excellent results of the Hon Guinness' 'Tamarillo' ridden by William Fox-Pitt finishing second at Badminton (2002) recently.

For our Terms and Conditions click here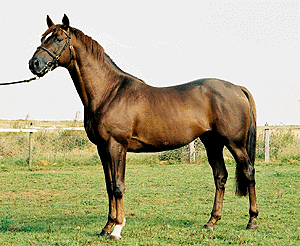 Silver Scenario
(AHSB)

Lone Tornado
(AHSB)

Valentina
(AHSB)

Persian Bold
(GSB)

Sea Thyme (GSB)

Hedgerow
(GSB)

Heritage Orion
(AASB 25%)

Abwah(GSB)

Absalom
(GSB)

Shadow Queen(GSB)

Darkest Hour
(GSB)

Twilight Alley(GSB)

Queen of Twilight(GSB)

Queen Vashti(GSB)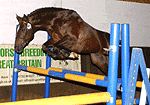 Competition Record
As a 4 yr old:-
winner SEIB Young Horse Evaluations Series Most Promising Event Horse Qualifier
4th Easter Panic International Stakes, Newbury
2nd Wildan Handicap Stakes, Warwick (2miles)
3rd Performance Horse Show Class, BSPS Area 16
5th SEIB Young Horse Evaluations Series Most Promising Event Horse Championships, HOYS
As a 5yr old:-
4th Prelim 4; 2nd Novice 24 (first dressage comp.)
12th Intro at Burnham Mkt
4th In hand Open Anglo Arabs over 4yrs - too fit
22nd Intro at Keysoe* (rider error resulted in 20 XC pens)
6th Gt Witchingham Intro - qualifies for Intro Regional Finals
14th Stanford Rivers PreNovice Dbl Clear - qualifies East Anglian PreNovice Finals.
As a 6yr old:-
First season at Stud - 100% fertility
NaStA Performance Tested
AHS Premium Stallion Grade A
Numerous Hunter Trial places in Autumn of 2004
At 7yrs:-
Winner In hand at County Level
Placed under saddle at County level
BSJA Winnings
Full season at stud
At 8yrs:-
Winner & Reserve Champ In hand and 2nd under saddle.
Hunter Trial winnings. Full season at stud. Limited competition as rider had a baby.
At 9yrs:- 2007
placed PreNovice Eventing
Winner In Hand and Championship
Winner under saddle and Reserve Championship
Qualified Cherif Championship
Winner under saddle at Suffolk County Level
Winner BSJA - winnings now over £75-00 in two outings.
At 10yrs:- 2008
Winner In Hand and Championship
Second under saddle Suffolk County, placed Norfolk County
Qualified Cherif Championship
Winner BSJA at Discovery and 1.10m Open. Qualified Amateur 2nd round.
Multiple BSJA winnings
At 11yrs:- 2009
Second under saddle Suffolk County Show
Qualified Cherif Championship
Multiple placing BSJA & Qualified Amateur 2nd round.
Great Witchingham BE100 - Double Clear first eventing outing for 12mths
12th Little Downham BE100 Plus
1st Dam: Darkest Hour - ran once prior to injury
Dam of:-
Heritage Thor - competed and then bought by Mrs Luca Cumani where he is Mr Cumani's hack and competes with their daughter
Heritage Aurora - Advanced Endurance Horse at 8yrs
Qualified Endurance European Champs 2006 & World Games 2007;Member of British Endurance squad 2005
For more click here.
Heritage Athena - Advanced Endurance Horse
Heritage Hera - placed in PreNovice Champs at 5yrs. Now competing with Junior -Won Inter School ODE. BSJA winnings Placed in 4/5 PreNovce starts 2007.
Heritage Orion - as above
Heritage Messalina -DkBr Filly 2002 by Heritage Nero Advanced Endurance Horse
Heritage Zeus -Bay Colt 2006 by Heritage Nero
2nd Dam QUEEN OF TWILIGHT, won 5 races at 3 and 4 yrs including Jockey Club Stakes, Newmarket, Gr.3, placed 2nd in Galtres Stakes, York,L;
Dam of seven winners-
ORNAMENTAL NIGHT (1973 C. BY Crocket) won 3 races at 4yrs; sire
GIRL OF SHIRAZ (1974 f. by Hotfoot) won 2 races at 3yrs and placed.
Antler (1975 c. by Northfields) won 1 race at 2yrs and placed 3 times including 2nd in Queen's Vase, Royal Ascot,Gr.3 and 4th in Goodwood Cup, Goodwood, Gr.3 Also 1 race Germany; Sire abroad. SUNSET RAY (1976 f by Hotfoot) won 7 races at 3 to 5 years.
Joulouville (1978 g by Reform) won 2 races over hurdles and placed.
LAYAL (1979 c. by Blakeney) won 1 race at 3yrs and placed 3 times, Sire;
Max Conrad (1980 g. by Homing) won 1 race at 3yrs and placed twice including 3rd in Ulster Harp Derby, Down Royal,L.
Brown's Cay (1981 f. by Formidable) placed once at 2yrs retired to stud due to accident.
GENTLE QUEEN (1982 f. by Grundy) won 1 race at 3yrs.
3rd Dam Queen Vashti, won 1 race at 3yrs, placed twice including 3rd in Cesarewitch Handicap Stakes, Newmarket,L;
Dam of five winners including-
QUEEN OF TWILIGHT, see above.
Nos Royalistes (c. by Nosca) won 4 races, placed 2nd in Irish St Leger, Curragh,Gr1 and 4th in Wills Gold Flake Stakes, Leopardstown, Gr.2; sire
Tired Monarch (c. by Hard Ridden) won 2 races and placed 3rd in Irish St Leger, Curragh, Gr.1; Sire. Cybele, unraced Dam of ;- CAUGHT IN THE RYE, 3 races including Hilary Needler Trophy, Beverley,L. Megale, 3 races, placed 3rd in Greenlands Stakes, Curragh,L; dam of FRENCH SERENADE, 5 races including Madrid Free Handicap, Curragh,L. CAPTIVE FLOWER, 2 races; damof TESORO MIO, 8 races including John Smith's Magnet Cup Handicap, York,L.;sire