About Us -
Hannah and Robert have had four children; Jane, Johnny, Georgina and Poppy. All four competed through their pony club years representing their branch in team competitions.
In 1986, they used their experience from the flat racing world to take up an amateur licence and train three arabs. During the year, Jane(aged 16) took up her amateur licence and rode under rules being able to ride at 7stone 7lbs.

It was a great family affair with Hannah's sister Mary Bancroft also having a horse in training, Solid Silver, who Jane gained the ride on. Hannah trained, Jane and Johnny rode out everyday before school and Robert did all the entering and driving.
During this period, Jane spent a brief spell working in Newmarket to gain some expert riding experience from flat trainer Ron Boss who had had success with many horses that Hannah and Robert had in training. For more info click here
In 1987, Jane's committment moved towards eventing. The family had always competed in Pony Club events and Jane had had success with one of the first pony's bred at the Heritage Coast Stud called Heritage Cinnamon. At only 15hh he was certainly one of the smallest contending the Junior Horse Trials competitions. However, the long term pony club experience they had proved valid as they all tripped off to Witton Castle (over 5hrs in the lorry from home) to take 2nd Place in a JOIT trial and subsequently be invited to the Junior Championships at Windsor 3DE in May 1987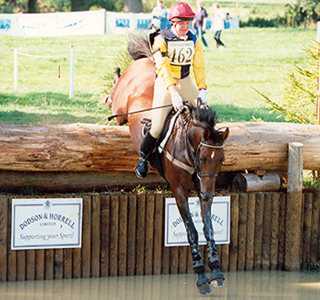 Jane riding Heritage Neptune at the Novice Championships at Somerleyton Hall 1999

(Photo courtesy of - Anthony Reynolds)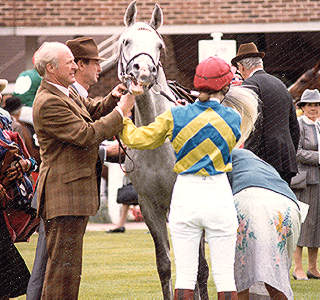 Again, the experience that Hannah had with training the racehorses led to Heritage Cinnamon's fitness never being an issue at Windsor and despite bottomless conditions Jane finished the three day event in 12th place and winning the best turned out trophy that was awarded by HRH Princess Royal. What was even more extraordinary was that Hannah had just had Poppy (born in April) and so in the start box at Windsor was Hannah running around after oldest child and horse and her sister in law, Judith Skepper, holding a one month old Poppy!
This first experience of eventing left an everlasting addiction for Jane. With the support of her parents, she then spent the next two years contending in the Young Rider Series on a mare called Carrie-Anne II with their best result being 10th at Bramham 3DE in 1990. During this whole period, Jane was studying at Nottingham University and tripped back and forth between Nottingham and Suffolk every weekend to compete and Hannah worked the mare to keep her fit and up for competition. A true family team effort.
After completing a degree in Animal Physiology and Nutrition, Jane came home to the stud to start her own subsidiary up of producing the home bred horses, some bought- in horses, and selling them on into the competition world. For more info click here
Jane has since, with Hannah, been refining the breeding of the stud's horses to breed top class competition prospects. For the stud's breeding policy click here
Poppy competed in all PC teams and in a few BE Events before going to St Andrews to study finance. For more click here
The next generation is now here with Jane & her husband Piers (Marson) having two daughters, Ada & Eve who are both keen riders despite being only 5 and 3 respectively.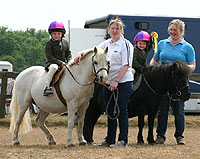 L-R
Ada on Elvis being led by Aunty Poppy, Eve on Trixie being led by Mum, Jane